RECOMMENDATIONS FOR… COFFEE – BREKFAST – BRUNCH – PASTRY
Coffee-Pastry "Palaios"
One of the oldest places in Milos to eat sweet or breakfast is "Palaios" a beautiful yard. It is the bakery with a huge history. Palaios is famous for sweet especially mille feuille (is fresh every day after 7:00 p.m. in the afternoon). Also it has so many tasteful sweets like puddings, chocolate pie with handmade ice-cream (in different favours), baklavas, marzipans cookies and so many others traditional sweets like "koufeto", "watermelon pie", "strudel with nuts and apple or pumpkin".  Just as delicious are the savory as handmade cheese pie, spinach pie, zucchini pie and oil pie (traditional pizza with cherry tomatoes and capers).
Phone: (+30) 22870 23490

Mosaic (…but first, brunch)
Mosaic is a new surprise of the island. It is located in Plaka the opposite of Palaios. The view of the balcony is amazing and the sunset too. You can taste delicious and special brunch. Moreover, Mosaic you can taste extraordinary cocktails, local beers and delicious food (pizza, bao-buns).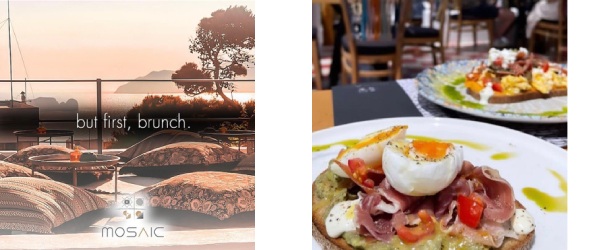 Okto
Inspired by the Mediterranean cuisine, OKTO offers breakfast, brunch, lunch and dinner using Greek fresh and seasonal products. Combined with the amazing view of the sea & the sunset, OKTO promises an unforgettable experience!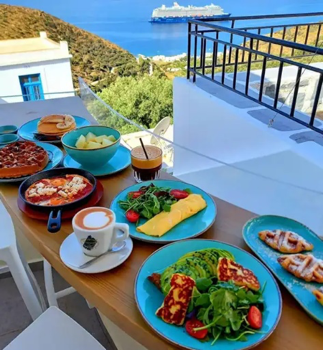 "Kivotos" the arc of flavors
A real ark for the preservation of the flavors and aromas of Milos is located at the entrance of Apollonia-Pollonia, in the elegant workshop – exhibition of traditional products.
You can get thyme and mayo honey, royal jelly, propolis, pastilles, sweet sweets, macaroons, sweets, jams, watermelon pie, salty pies, thick, pickles, tomato juice, sun-dried tomatoes, bun, various melian herbs and veggies. Of course all this but also various handmade sweets, breakfasts with coffees or juices, you can enjoy in the back picturesque courtyard of the store.
Phone: (+30) 22870 41121

Aggeliki (homemade ice cream and sweets)
A shiny, classy "home of ice cream" decorated in pastel shades harmoniously matching with the freshness and the colors of its products. The yard across the marina with tables and comfortable couches is the ultimate place to enjoy refined flavors of fresh homemade ice cream, delicious waffles and homemade desserts. Aggeliki also is famous for the chocolate fondue with different scoops of ice cream and fresh fruits. Also here you can eat one of the best breakfasts and brunch.
Phone: (+30) 22870 23059

RESTAURANTS FOR…FOOD
TRADITIONAL MELIAN CUISINE – MEAT
Taverna "Oh! Hamos!!!"
Take a seat at the seafront and enjoy traditional Melian cuisine in all its glory! What a selection…Take your pick from dishes cooked in pots, baked, or tenderly barbequed. Suckling pig cooked with petimezi, wild goat cooked on embers, lamb sourtoukiko with herbs and feta, manoura cheese with eggs, fried zucchini with cheese. The secret to its pleasant flavours are the vegetables from Micheko's garden, meat from their own farm, delicious cheeses from the family- operated traditional cheese factory and authentic recipes.It is recommend to go early in the afternoon.
Phone: +30 22870 21672

Taverna "Embourios"
A truly worth visiting restaurant both for the delicious dishes and the stunning view across the shore of the Gulf of Adamas. A homey setting with its tables merely  'touching' the sea where you may try goat with a lemon sauce, rooster cooked in red wine sauce, rabbit, omelette with potatoes, snails and much more. The vegetables, meat and feta cheese are of their own production. The sweet delicacies are also tempting: traditional 'koufeto', chocolate casserole cake and their famous 'embouriano'.
Phone: +30 2287 021389

RESTAURANTS FOR…
 FISH – SEAFOOD
Restaurant "Yialos"
A Mediterranean restaurant with friendly atmosphere right next to the sea. Tasty dishes in a gourmet approach, crisp salads are accompanied by a comprehensive wine list. Enjoy various special-ties like the open sandwich with black pork and octopus, dusky groper Carpaccio, shrimp tartar and sea urchin spaghetti. This year's delights are gnocchi with handmade smoked seafood and onion cream, squid sauté with Greek pepper pesto and aromatic couscous. For dessert indulge yourself in semifreddo with mastiha, white chocolate mousse with tahini and anthotyro cheese or bitter chocolate mousse.
Phone: (+30) 22870 41208

Restaurant "Enalion"
Tables facing the sea, delicious authentic local recipies and fine wine will make your meal simply delightful. Choose from pitarakia (cheese pies), tomato balls, boiled vegetables for salad, fresh fish from Milos, octopus stew, steamed mussels with lemon leaves, pasta with seafood, all cooked with fresh, mostly home- grown ingredients and virgin olive oil.
Phone: +30 22870 41415

.
Restaurant "Mikros Apoplous"
A restaurant with captivating atmosphere, amazing seafood, tables right on the water and the salty sea breeze caressing you! You can't help but give in to the riot of delicacies on offer: grilled local fish, Carpaccio and ceviche with freshly-caught sea bass, pasta with seafood or lobster, grilled mackerel, fish soup and many others imaginative creations. An explosion of flavours, the homemade Apoplous dip, brings more joy flooding your palate with deliciousness and freshness.
Phone: (+30) 22870 24207

Taverna "Astakas"
The white tables with the traditional straw chairs, located directly on the sea waves, create the ultimate relaxation setting and give the exact meaning of Greek summer. In this amazing area, with a magnificent view of the Aegean, one enjoys authentic Mediterranean cuisine and delicious fish and seafood. Astakas is famous for the fresh fish.Also Mr. Nicolas Astakas has own bowl next to the restaurant, where he grows various vegetables. Potatoes, tomatoes, zucchini and aubergines are cut straight from the field and transported to the kitchen so as the visitors to enjoy them fresh, like the best quality organic products. The best time to visit is the sunset time.
Phone: (+30) 22870 22134

Restaurant "Medusa"
In a picturesque harbor with colorful houses "Syrmata" is the restaurant Medusa. The restaurant combines traditional local products with Mediterranean cuisine, mainly seafood.It is worth trying the "Medusa" salad, grilled octopus, grilled sardines and swordfish skewers. All these delicious flavors are accompanied by good Greek ouzo or beer.  No reservations! 

FOR A DRINK-COCTAIL
At the port of Adamas
Akri
View of the port of Adamas, in a Cycladic style cocktail bar. Nice drinks and cocktails with music from guest DJs, are the perfect combination for summer night out!
Open at 8p.m.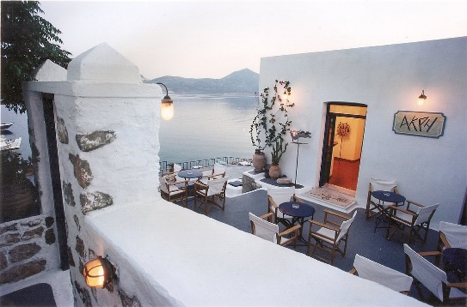 Mikro café bar
A balcony with an outdoor bar like a flying ship's deck, the bay of Adamas right in front of you, an interior bar decorated with wood and old vinyl records, music even for the most demanding, a constantly updated list of drinks and beers and a telescope that brings closer the moon.
Open at 5p.m.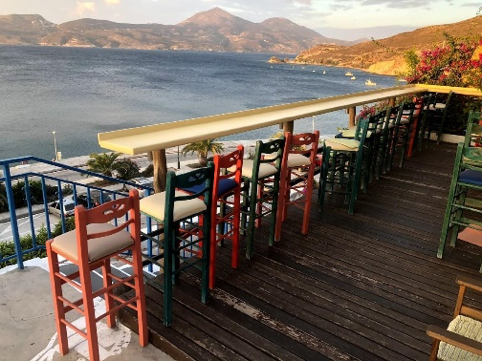 Aragosta bar
A music-bar at the entry of the port where the crowds sways to dance hits, hip-hop, punk, soul and pop- rock. Dance the night away with impressive views of the moonlight marina.
Open at 7p.m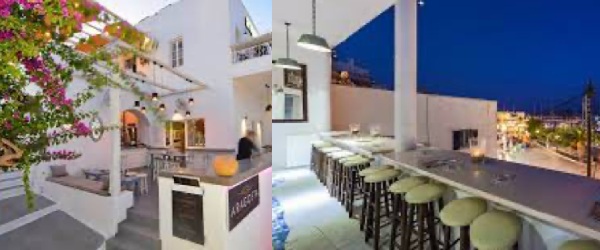 At Plaka
Verina cocktail bar
The bar located at the centre of Plaka next to the church. Here you can sit and enjoy in the picturesque courtyard unique cocktails overlooking the sunset.
Open at 6p.m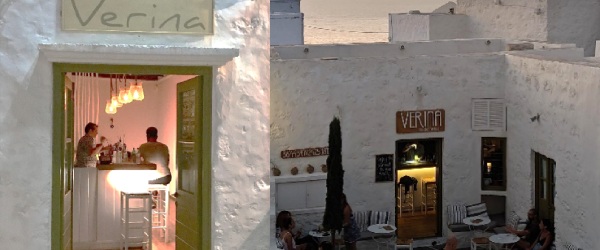 Utopia
One of the best place you must visit by anything is the balcony of Utopia café-bar. Here you can enjoy your coffee, your wine, your beer or your cocktail accompanied by the most atmospheric music that perfectly fits the sunset scene. Next to the coffee-pastry «Palaios» you go down the stairs.
Open at 6p.m.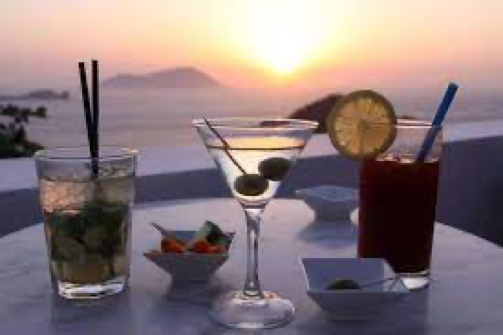 Syrma beer shop
A new hangout place at Plaka worth visiting just to try fresh local beers and delicious handmade hotdogs!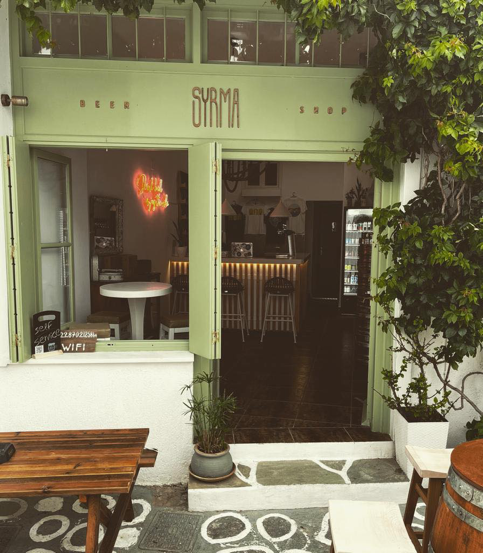 At Pollonia
Deck coffee-cocktail bar
It is located in the centre of Pollonia on a balcony overlooking the whole place. You can relax drinking original cocktails with a view and aroma of the sea. Open all day!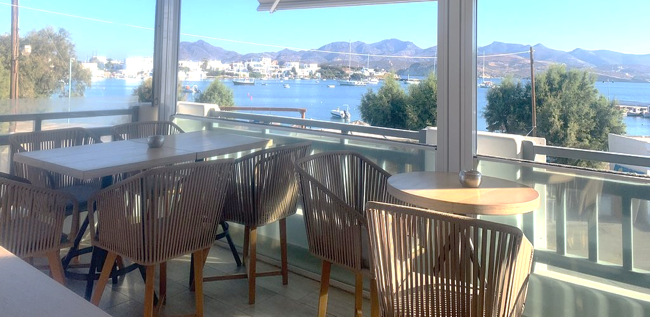 TRADITIONAL FLAVORS AND TRADITIONAL FOODS OF MILOS ISLAND
Before leaving the island, be sure to try traditional flavors and traditional foods of the island.
Pitarakia -The pies: Fried pies (pitarakia) of Milos cheese and handmade sheet. 
The Flauns: The flauns are pies stuffed with wild herbs or spinach, rice and Milos cheese.
Watermelon pie is a refreshing pie without sheet with watermelon, sesame, flour, olive oil, sugar, cinnamon and honey. Served as a dessert.
Xinomizithra of Milos. It is a cream cheese where you will find it only in Milos.
Tomato paste of Milos. It is made of sun-dried tomatoes of Milos.
Glyko koufeto is a spoon sweet from white pumpkin, honey and almonds. This is the sweet they offer at weddings.
We wish you a wonderful stay with the best tasting experiences.
By Kampouri Evangelia
Achinos by the sea Milos