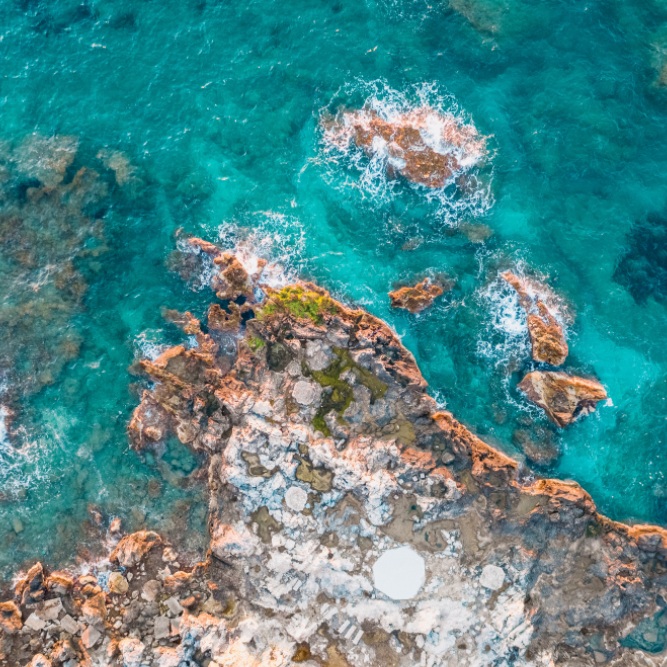 Things to do in Milos Island
1. Visit the beautiful Sarakiniko Beach
Heading to Sarakiniko Beach is without a doubt one of the best things to do in Milos. It's the most famous beach on the island and is known for its crazy rock formations, vivid turquoise waters, and spectacular views.
While exploring Sarakiniko, you'll honestly feel like you've stepped on the moon as you wander at the distinctive white rock, huge hollows, and unique formations.
The landscape surrounding the beach has been shaped by volcano activity and is part of the reason why this spot is so popular.
It's actually one of the most photographed places on the island and gets super busy, so you'll need to get here early – especially if you want a parking space!
I'd also avoid heading there during midday/early afternoon as the sunlight reflects off the white rock making it unbearably hot.
2. Explore the Catacombs of Milos & the Ancient Theater
The Catacombs of Milos and the Ancient Theatre are located near the village of Tripti and are just a 10-minute walk from each other.
To make the most of your time on your island I'd recommend combining a visit to the two sites.
The Catacombs of Milos were discovered in the 1800s and consist of three catacombs in total. Unfortunately, it's not possible to visit all of them but you can visit the Chamber of the Presbyters (Elders) and the main chambers of catacomb A & B.
After visiting the Catacombs, head to the Ancient Theatre which is just as impressive!
It's thought to have been built during the 3rd Century BC and is very well-preserved. It also offers stunning views of Milos Bay so make sure you bring your camera!
Ancient Theater
Catacombs
3. A boat tour of Kleftiko Bay and around Milos
If you're looking for the top things to do in Milos, you can't miss out on visiting Kleftiko Bay.
It's well worth taking the full-island tour and having the experience of reaching secret beaches, which can't be accessed by road—for example, Gerakas beach, a stunning strip of sand backed by a huge rock formation. Taking a full tour also gives you plenty of time to relax both on the boat and land and fully absorb the beautiful atmosphere of this dreamy island.
To book your boat trip please Check here:
Cave Sikia
Kleftiko bay
4. Go on a boat tour to Polyegos (Blue lagoon)
As you can see, there are plenty of fantastic activities on Milos Island, but no trip is complete without a visit to Polyegos island!
This private or share boat trips will take you to Polyegos, and you'll get to see plenty of other sites along the way including Blue Bay, the Cave of the Seal, Goupa Kara, and Mersini Bay.
It's well worth the money as all snorkeling equipment, sea toys, alcoholic beverages, and food are included in the price. You'll also get action camera footage of your day!
To book you boat trip please Check here Polyegos
5. Watch the sunset from Plaka or Tripiti and stroll around historic place
While the port of Adamas (or Adamantas) is the biggest settlement on Milos, little Plaka (a few kilometers to the north) is the island's capital. Inhabited since the early 19th century, this is where Milos reveals its Cycladic character, with little whitewashed houses and cobblestone alleyways.
Milos is full of scenic locations that are perfect for watching the sun go down, but nothing can compare to the views from Plaka Castle.
The castle dates to Venetian times and is found on the second-highest point of the island. It's split into two separate sections; the lower section and the uphill section where noble families once lived. The castle is charming during any time of day, but it will truly take your breath away at sunset. From the top, you'll get panoramic views of Milos Bay, Plaka, and some of the many beaches found on the island and the colors are superb!
Plaka Castle is easily one of the best Milos Island attractions, but it can get pretty busy so make sure you get there early to grab the best spot.
6. Explore and visit fishing villages
Another classic vista of Milos, the syrmata (fishermen's boathouses literally built into the rocks) are the colorful centerpiece of the fishing villages of Klima, Agios Konstantinos, Mandrakia and Fyropotamos.
7. Explore the coastline by sea kayak
With all those sea caves, bays and beaches, there's no way you won't be tempted back out to sea… this time by kayak. There are full- and half-day guided tours in many directions. Paliohori and Provatas beaches are popular destinations to the south, as is Paliorema (and the former sulphur mine of Thiorichia above it) to the east and Glaronisia to the north.
8. Day Trip to Kimolos
Milo's next-door neighbor is a small island called Kimolos. If you're looking for an off-the- beaten-path adventure, a day trip to Kimolos is definitely a good idea! Kimolos is 26 kilometers from Milos, making the transfer between islands quick and easy.
Spend time strolling the streets of all of Kimolos' quaint villages, soak up the sun at their pristine beaches, or grab some authentic Greek food at one of their many delicious restaurants.
9. Learn about the island's history at the Milos
Mining Museum
There's no better way to understand a place's history than by visiting a museum. This is why I recommend heading to the Milos Mining Museum! Located in the port town of Adamas, this museum will teach you everything you need to know about the island's mining history.
There are plenty of exhibits to explore and many of them include collections of stones and minerals, photographs, and short movies. You can also grab a map from the museum and go on a 'geo-walk'. You'll get to see unique geological and volcanic formations on these trails, and also get to understand why Milos was such a popular mining destination.
10. Diving at shipwrecks
If you're interested in diving or want to try diving for the first time, Milos is a great place to do it! The sea is super clear and home to incredible marine life. Between the three islands of Milos, Kimolos, and Polyegos, the seafloor is packed with shipwrecks that are fascinating to swim amongst and explore. Check out the shipwreck that lies close to Kleftiko beach too!
11. Attend a local festival
Now it's time to learn how Greek people celebrate. It's not just a religious thing, it's to share happiness. The local feasts are part of Greece culture which passes from generation to generation.
Even today, these special events are landmarks in the lives of the inhabitants and a unique chance to socialize and enjoy some dancing.
You'll dance traditional dances and drink local wine until morning. Don't worry, they'll show you the steps and even if you don't get it at first, you'll become part of it very fast.
12. Visit the local winery "Kostantakis" at
Apollonia
Visit a winery to see the vineyard and the cave where the wine is aged, and try the delicious wine paired with local cheese and delicacies. You'll have the opportunity to learn some secrets and tips from a family-owned winery and maybe buy some bottles of wine as a souvenir.