The best restaurants and local stores in Milos, Greece
Milos is a typical Greek island, but with a twist. Famous for its exceptional white marble, the island is a tourist hotspot — a favorite among the Greeks themselves, who flock to the island by cruise ship. The island is also known for its trademark 'paintings' — imprints of natural rocks formed over thousands of years by the wind, rain, and sunlight. Most tourists prefer the luxurious catamaran tour around the island.
When traveling, it is always fun to try the local foods and to see what is popular. In Greece, you will find that seafood restaurants are both delicious and affordable. We have researched and sorted them according to several categories for all who love to travel to Milos. We have added some significant places that can save much time when needed.
Mosaic
Mosaic is a hidden gem on the island. Tucked away in Plaka opposite Palaios, this little spot has an incredible view from the balcony and stunning sunsets. You can enjoy delicious and special brunch dishes here. And get extraordinary cocktails, local beers, and pizza or bao-buns.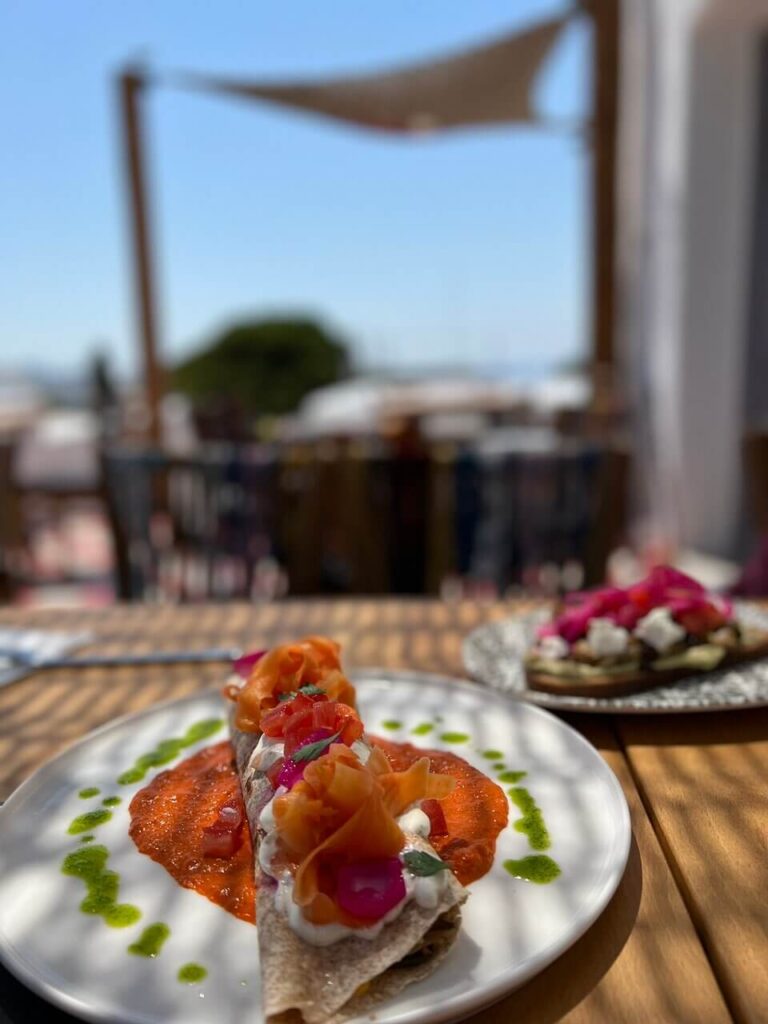 Dom coffee-brunch
The best brunch on the island of Milos can be found right here. With so many delicious flavors to choose from, it is worth trying out. Be sure to try the open sandwich with avocado, bagel with cream cheese, or Croque madame. And if you are looking for something sweet, the pancakes are a must-try.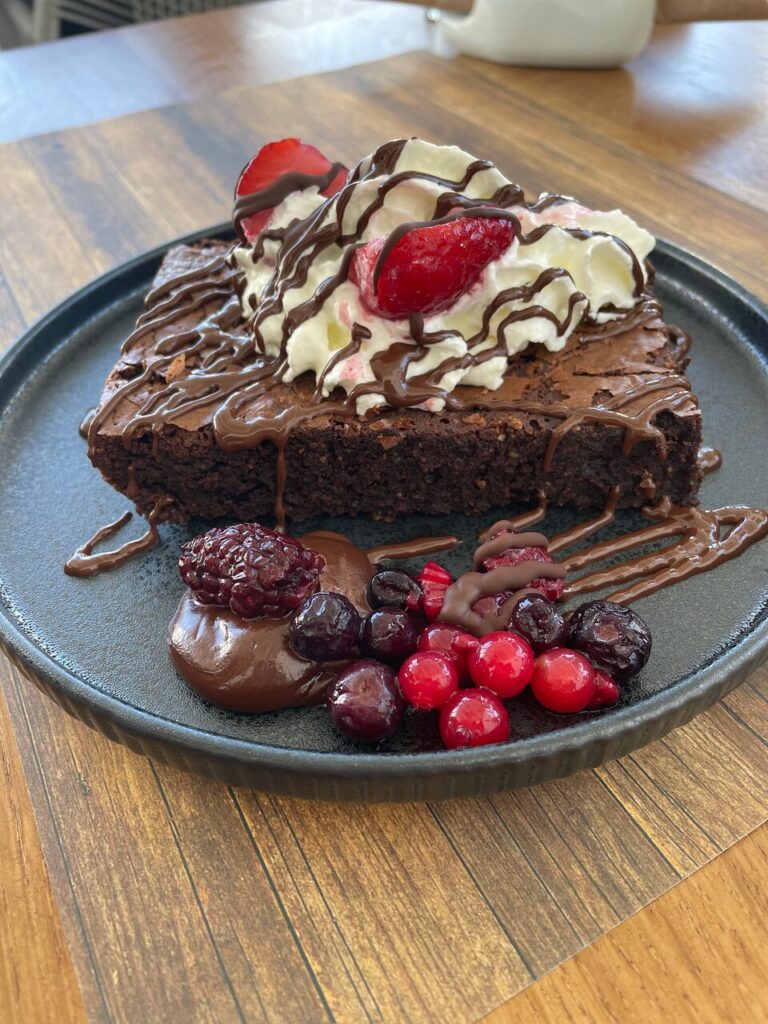 Kivotos
If you are looking for a delicious brunch spot in Milos, look no further than here! There are many stunning flavors to choose from, so you are sure to find something you will love. We recommend trying the open sandwich with avocado, bagel with cream cheese, or Croque madame. And there are many different types of honey available here, like thyme honey, royal jelly, and propolis. You can also find mayo, pastilles, macaroons, and other sweets. Watermelon pie is a popular choice, as are the salty pies. For something different, try the sun-dried tomatoes or the various Melian herbs.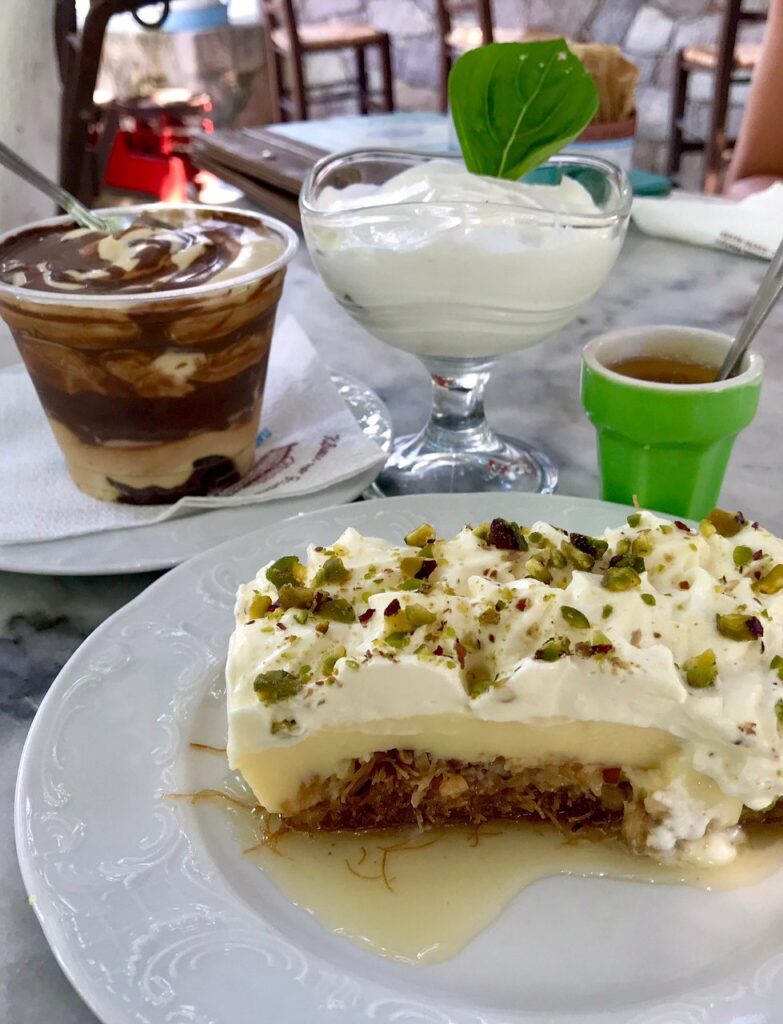 Palaios
One of the most popular places to stop for a sweet treat or breakfast in Milos is Palaios. This beautiful bakery has a long history and is well known for its delicious milled-feuillee, which is freshly made every day after 7:00 p.m. The bakery has such a wide variety of tasty sweets, like puddings, chocolate pie with handmade ice cream (in different flavors), baklavas, marzipan cookies, and so many other traditional desserts like "koufeto", "watermelon pie", "strudel with nuts and apple or pumpkin".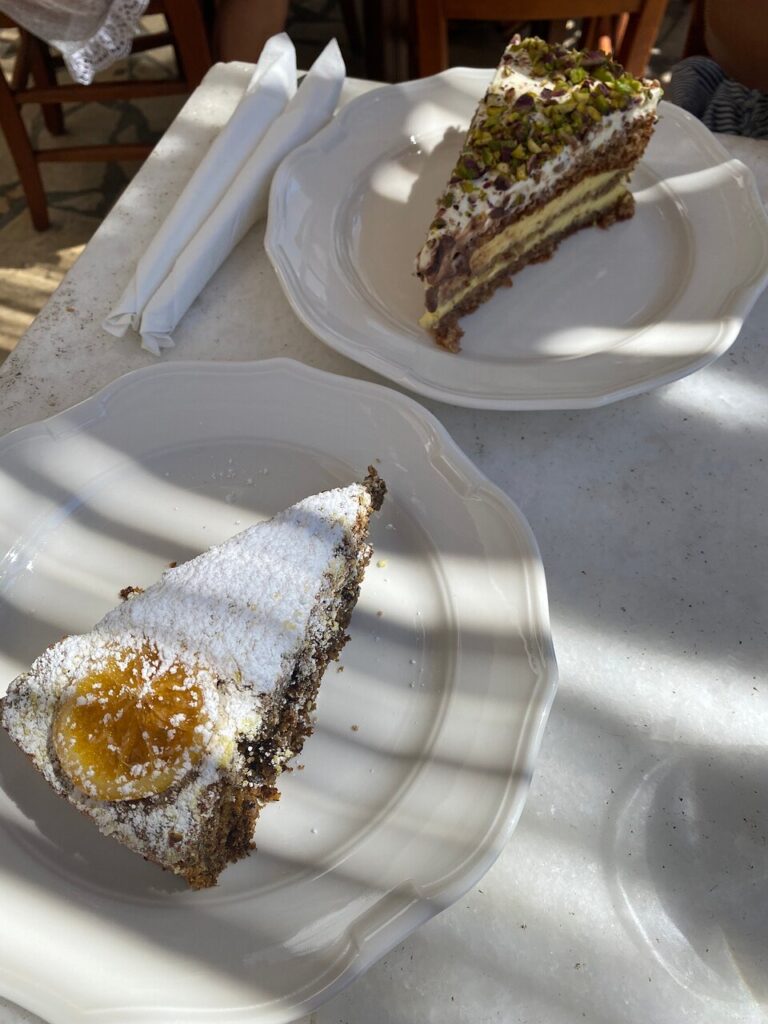 Aggeliki
The Ice Cream House is a charming little shop nestled in the heart of the city. It is perfect for a quick stop to cool off on a hot day or to enjoy a leisurely treat with friends. The decor is simple and elegant, with pastel shades that highlight the freshness of the ice cream. The menu features classic flavors and creates new concoctions, all made with the highest quality ingredients. If you are in the mood for some delicious chocolate fondue, Aggeliki is the place to go. With different scoops of ice cream and fresh fruits. It is a great way to satisfy your sweet tooth.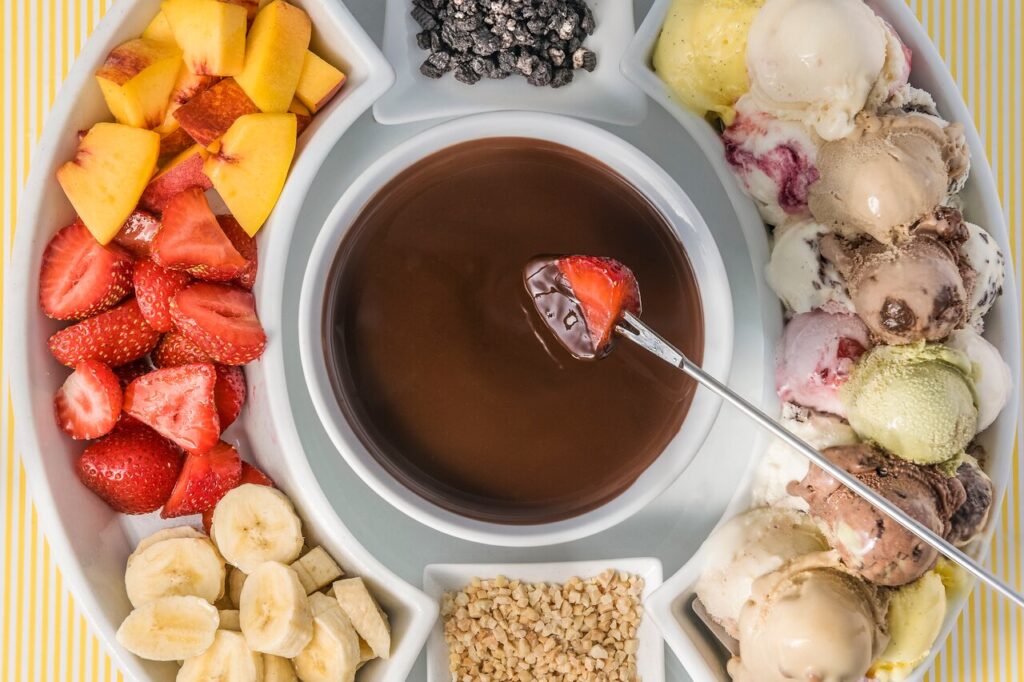 For Meat lovers
Oh! Hamos!!!
Welcome to the seafront! Here you can enjoy traditional Melian cuisine at its finest. There is a wide variety of dishes to choose from, including those cooked in pots, baked, or barbequed. Suckling pig with petimezi, wild goat cooked on embers, lamb sourtoukiko with herbs and feta, manoura cheese with eggs, and fried zucchini with cheese are just some of the delicious options available. Micheko's has a secret to its delicious flavors: the vegetables from the Micheko family garden, the meat from their farm, cheeses made by Micheko's traditional cheese factory, and authentic recipes. It is best to go early in the afternoon to get a seat.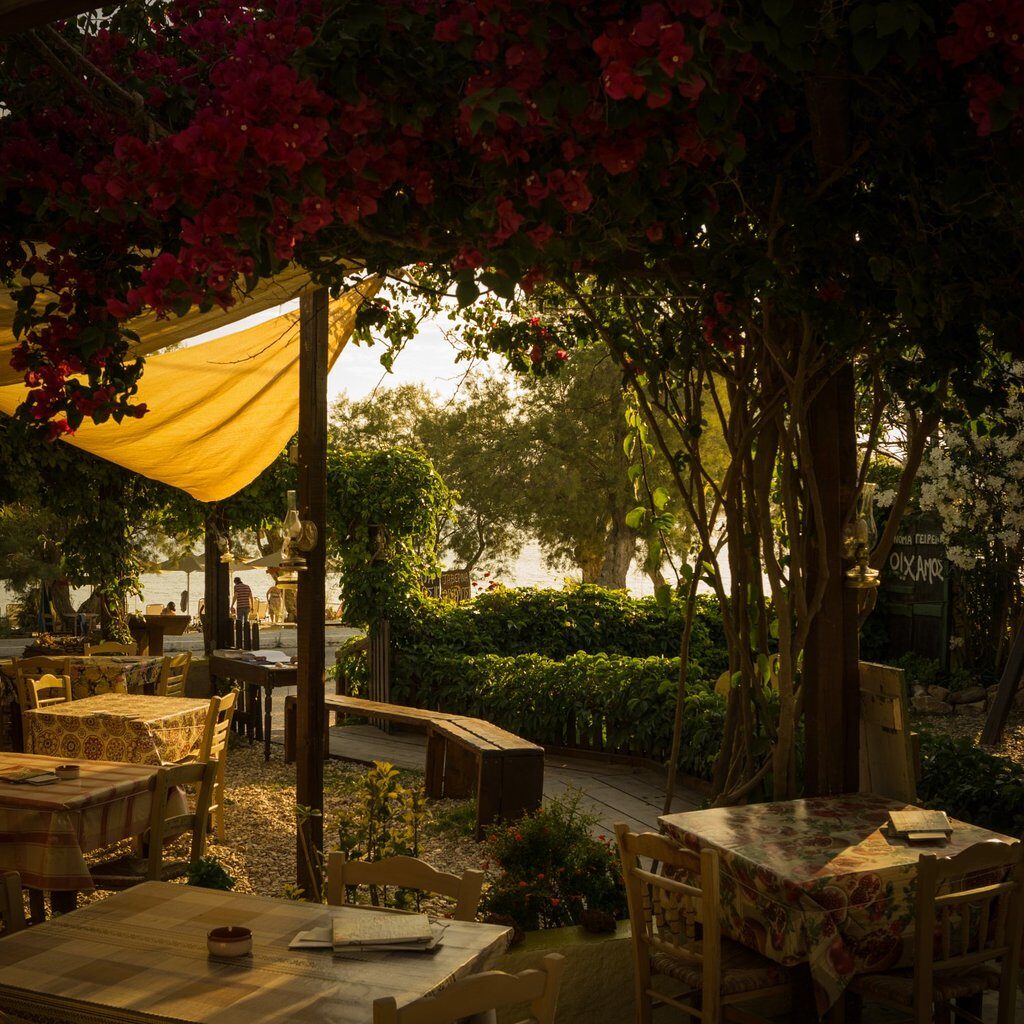 Embourios
A visit to a truly worth-visiting restaurant is not only for its delicious dishes but also for the stunning view across the shore of the Gulf of Adamas. The homey setting with its tables merely touching the sea has inspired many visitors to try goat with a lemon sauce, rooster cooked in red wine sauce, rabbit, omelet with potatoes, snails, and much more. The vegetables, meat, and cheese are of their production. Sweet delicacies such as traditional 'koufeto' (a cake made from flour and egg), chocolate casserole cake, and embouriano (a Greek coffee with lots of cream) are also tempting.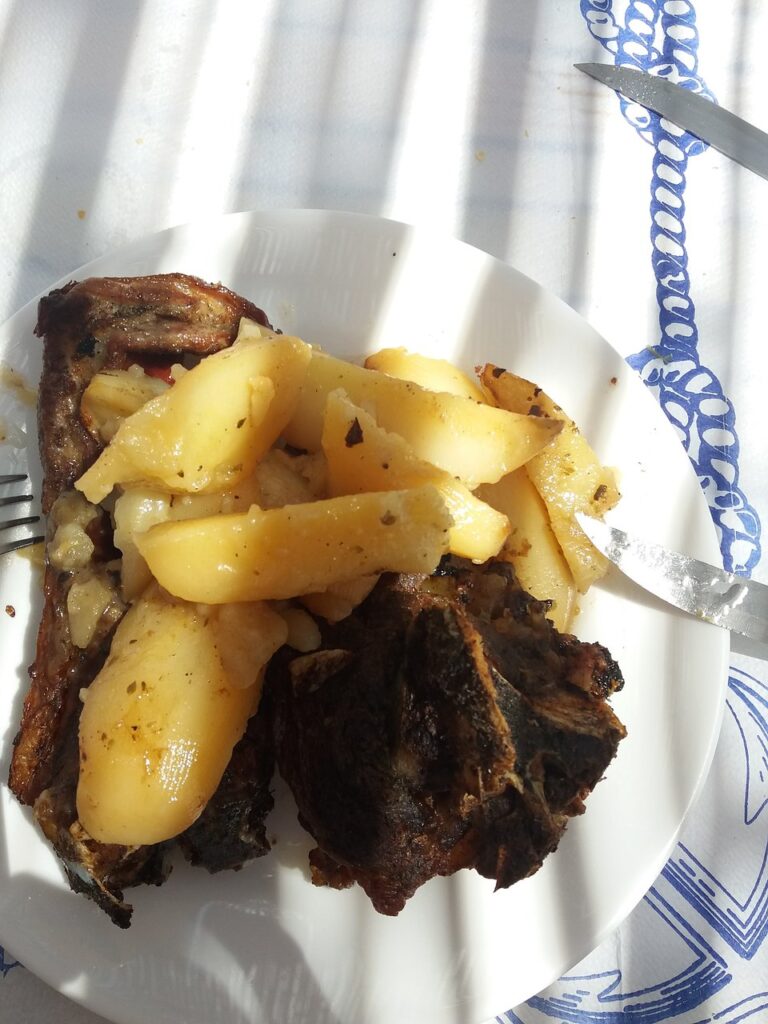 Ergina
If you would like to dine with a view of the sunset while enjoying a meal, Trypiti is the place for you. Miss Ergina takes a personal interest in every meal—and every customer. The menu includes aubergine fava, chickpeas, homemade garlic pasta, pittarakia, meatballs with tomato sauce, and one of the day's specials (such as onion pie). Also, offers a fantastic wine rooster with handmade pasta and braised veal with eggplant puree.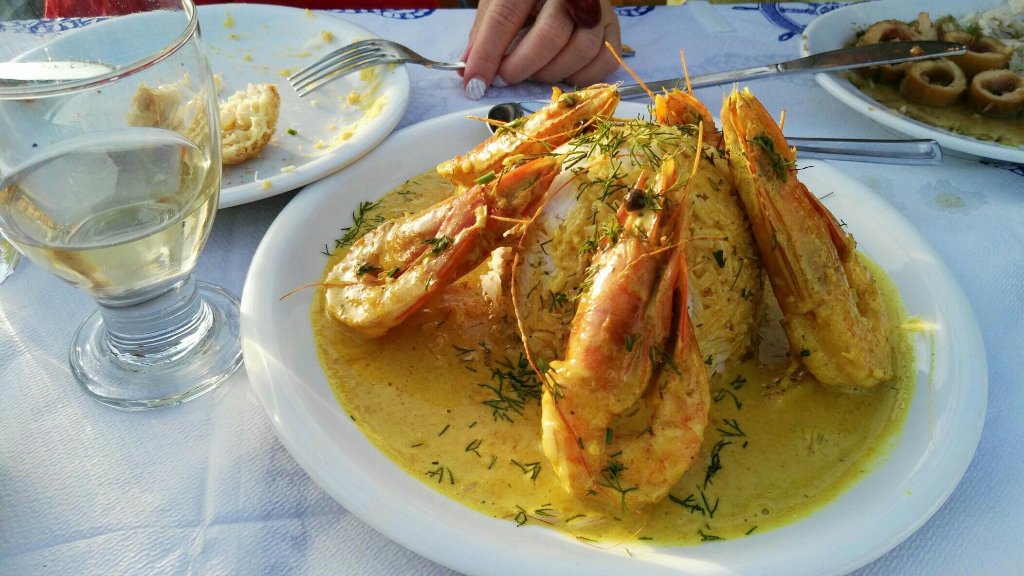 O Zygos
A veranda in Melian style and a family-friendly atmosphere, with views of the palm tree and the Gulf of Adamas. Special treats on the charcoal for meat lovers. It opens at seven in the evening.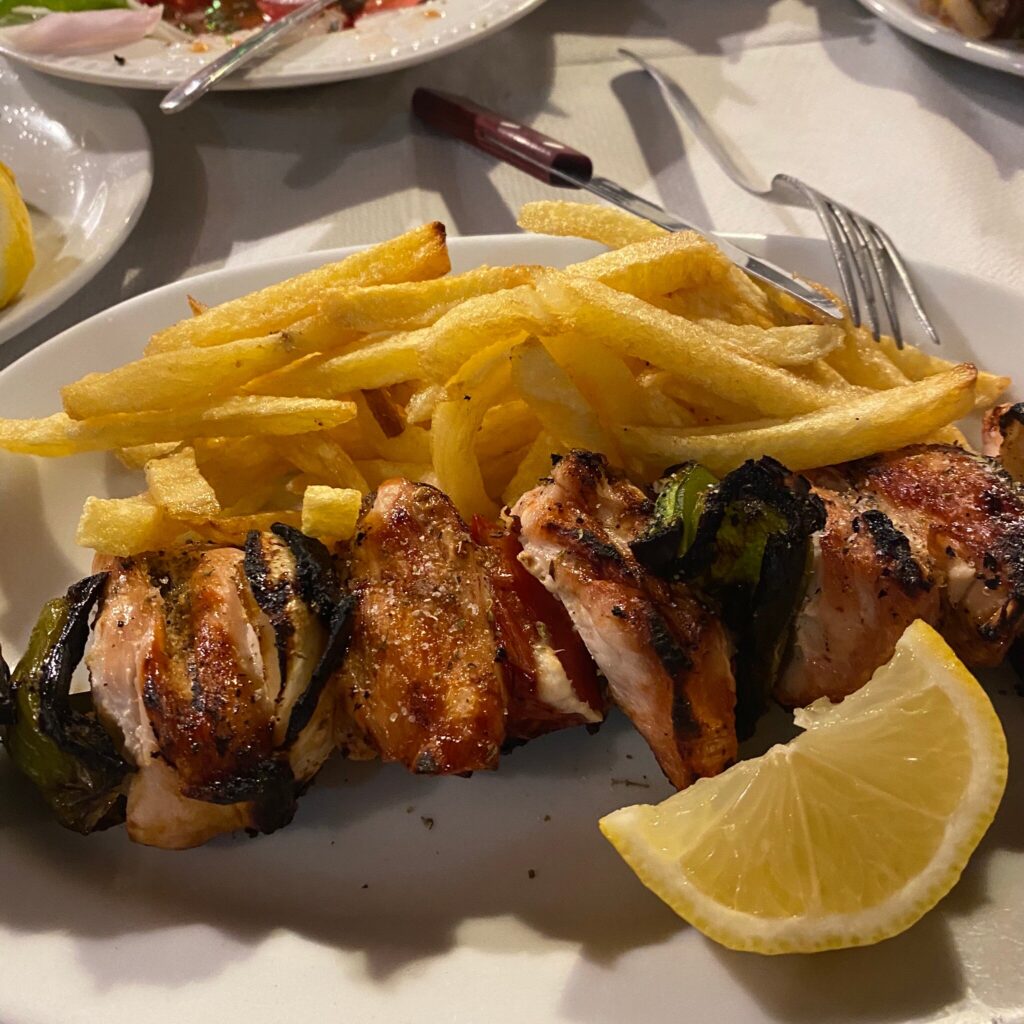 Phatses
Before climbing all the uphill to reach Plaka, you will find the Phatses! Tavern with excellent flavors! The most recommend combination of this place is the tubule salad and French fries with mint and cheese! Phatses has live music every night, helpful staff, and a warm atmosphere as if you were in an old Greek movie.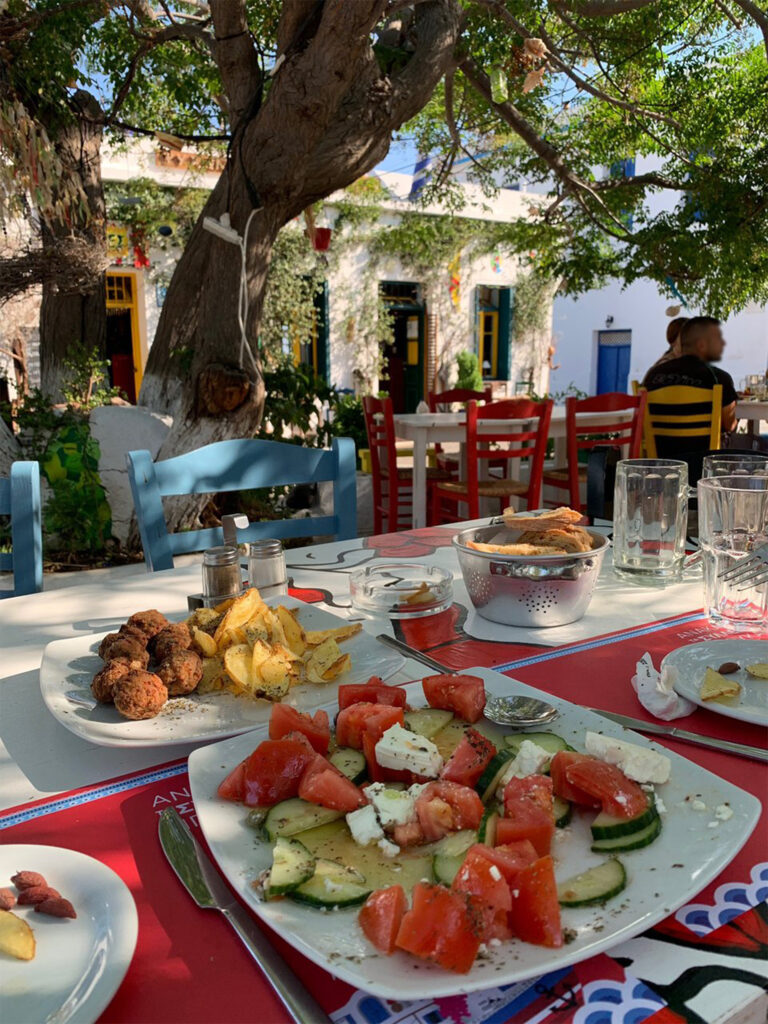 Archontoula
The historic Plaka neighborhood is now home to a restaurant where you can enjoy traditional dishes like a rooster in red wine sauce, rabbit casserole with baby onions, and local cheese. You can also sample wines and beers from all across Greece. Join us for lunch or dinner next time you are in this area of Milos.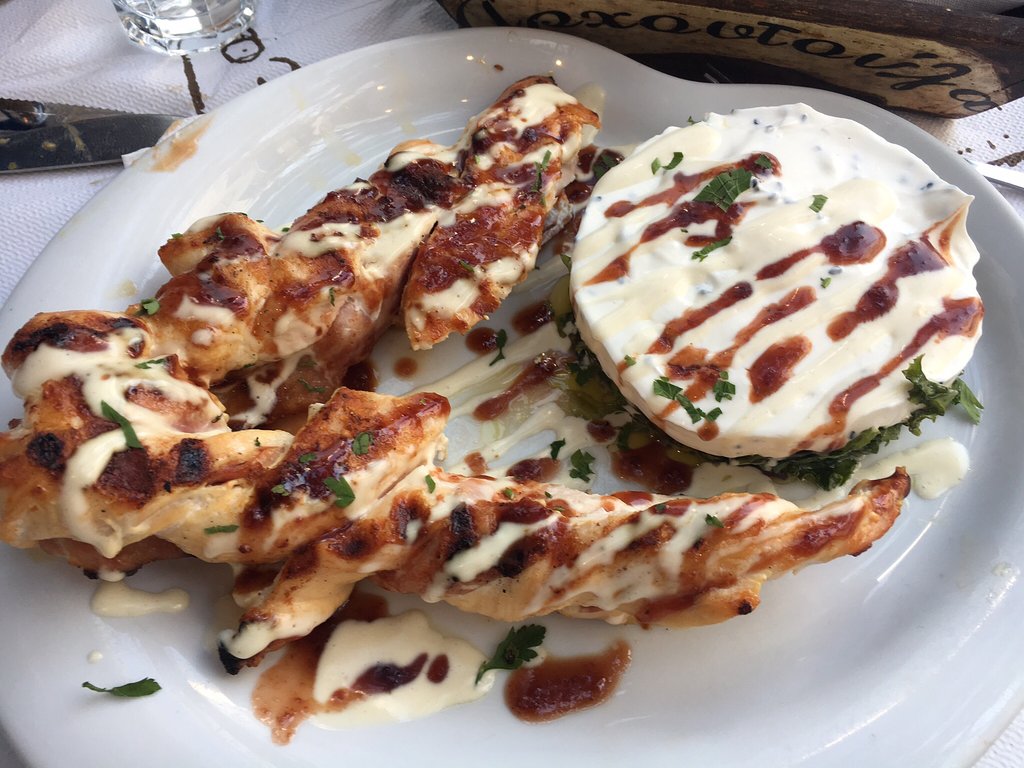 Yialos
A Mediterranean restaurant serves delicious dishes in a gourmet approach and crisp salads accompanied by a comprehensive wine list. Enjoy various specialties like the open sandwich with black pork and octopus, dusky groper carpaccio, shrimp tartar, sea urchin soup pasta, or couscous. Season's special delights are gnocchi with smoked seafood, onion cream squid sautés with Greek pepper pesto, aromatic couscous, and white chocolate mousse. For dessert, indulge yourself in semifreddo with mastiha cheese and bitter chocolate mousse.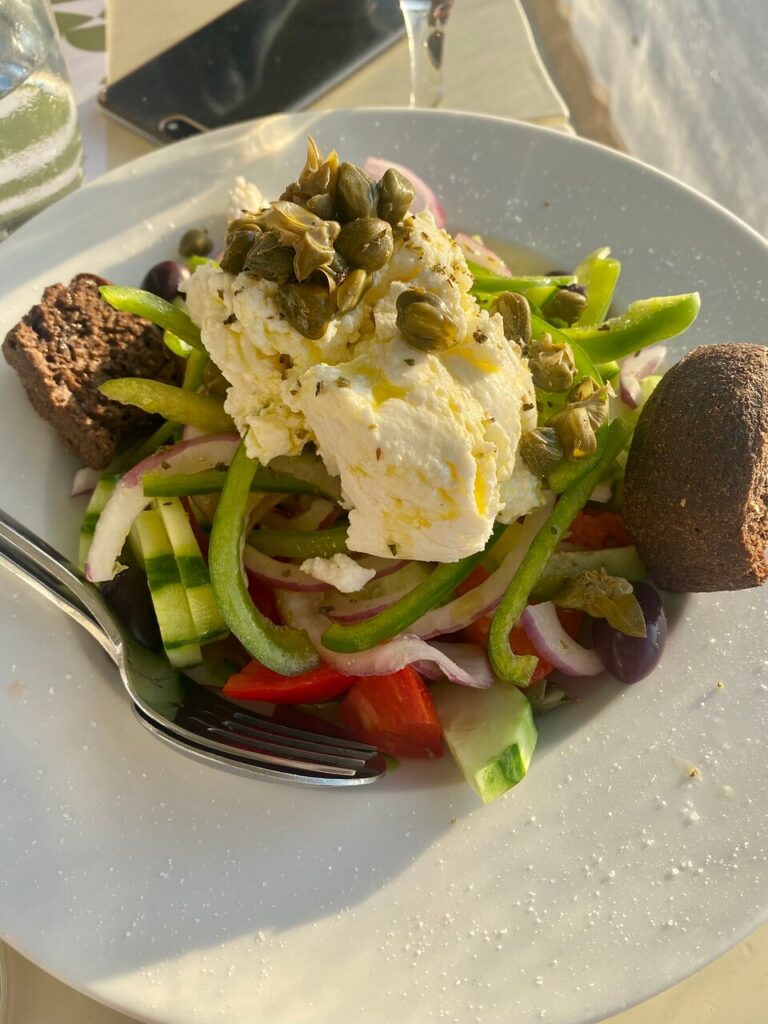 Armenaki
A waterfront restaurant with tables on the bay of Pollonia and enchanting views of the water, this is a place to go if you are in the mood for wine. The owner of this restaurant is a certified Sommelier who takes us on an educational tour through the world of Greek wines. His suggestions include a broad list of domestic wines with seafood, locally grown vegetables, and pure olive oil. By combining each delicacy with an appropriate wine, he highlights the unique elements of each variety, offering an unforgettable flavor experience.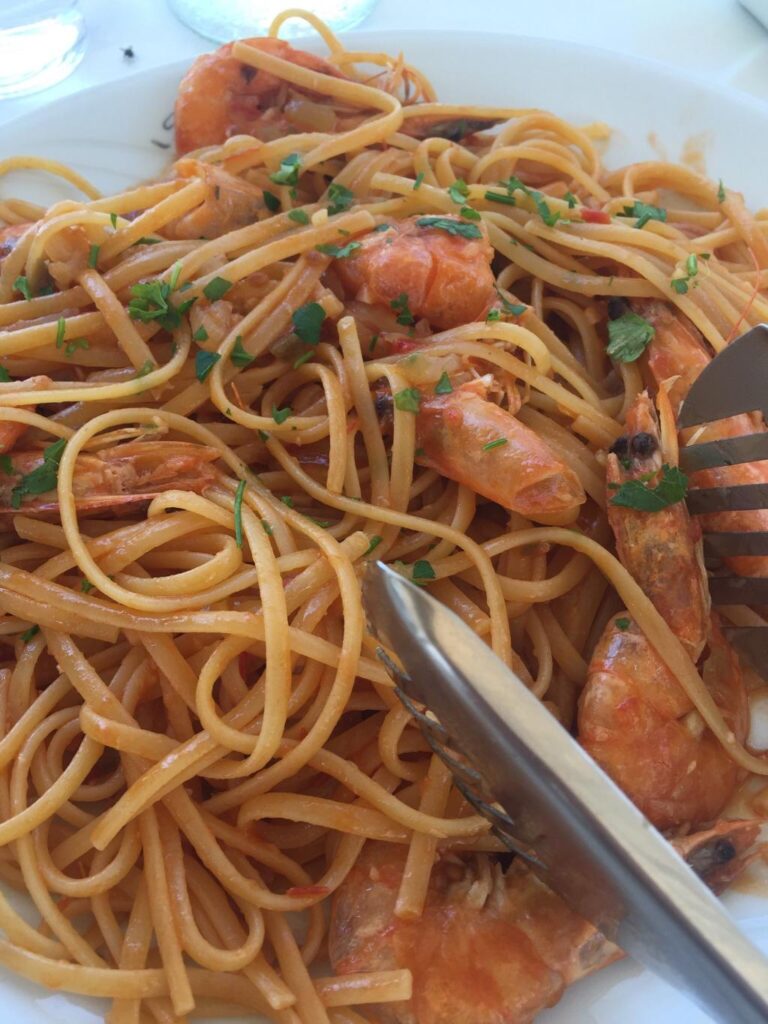 Enalion
Enjoy a meal at our restaurant with tables facing the sea, delicious authentic local recipes, and fine wine. Choose from pitarakia (cheese pies), tomato balls, boiled vegetables for salad, fresh fish from Milos, octopus stew, and steamed mussels with lemon leaves. All cooked with fresh ingredients, home-grown and virgin olive oil.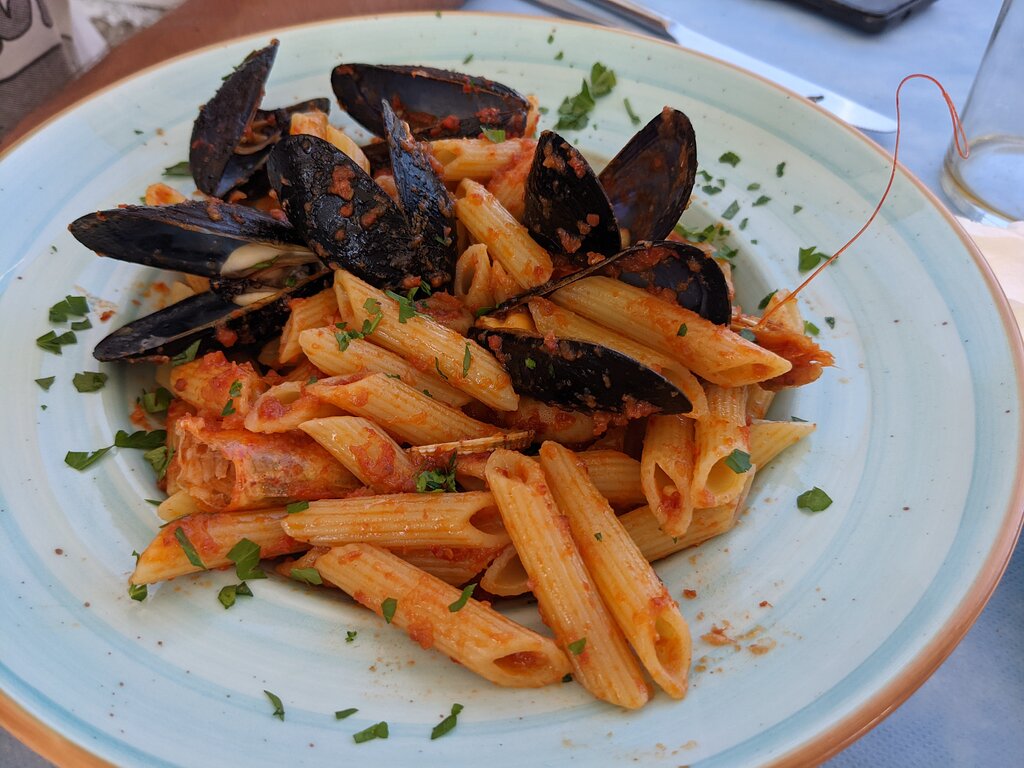 Nostos
The port of Milos, Adamas, is a particularly idyllic location and easily accessible as it is one of the most popular restaurants on the island. The word "nostos" means returning home and comes from the word 'nostimos,' which means tasty- and 'nostalgia.' Greek cuisine has been given a modern twist by combining seafood and local products with wine produced across Greece.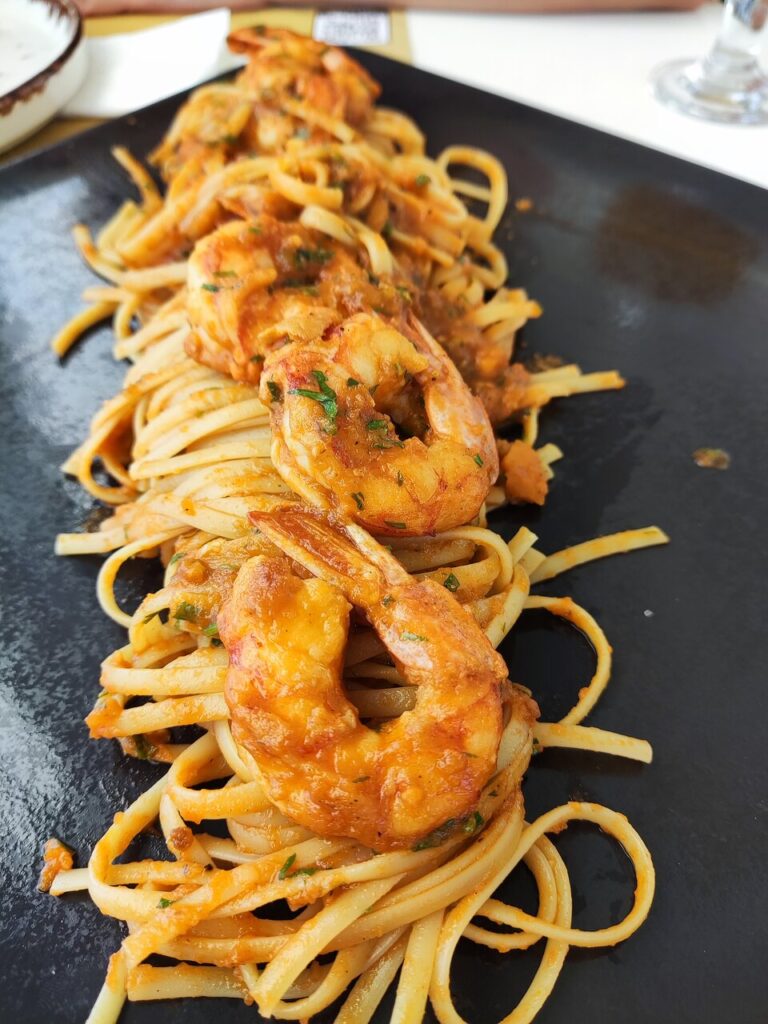 Mikros Apoplous
A restaurant with a captivating atmosphere, the best seafood, and a view of the sea, you can not help but give in to the delicacies like local grilled fish, carpaccio, and ceviche with freshly caught sea bass. Pasta with seafood or lobster, grilled mackerel, fish soup, and many other imaginative creations will have you feeling like you are in heaven. With an explosion of flavors, homemade Apoplous dip brings more joy flooding your palate with deliciousness and freshness.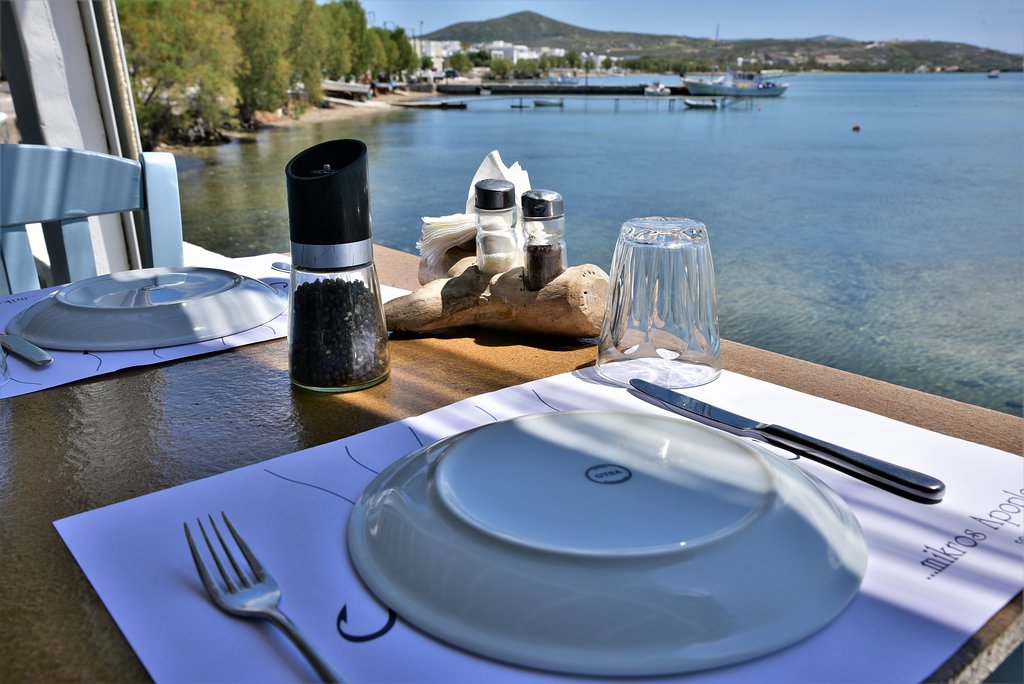 Astakas
Astakas is located directly on the Aegean Sea, and its white tables with traditional straw chairs create an ideal setting for relaxation. In this charming area with a magnificent view of the Aegean. You can enjoy authentic Mediterranean cuisine and delicious fish and seafood. Astakas is famous for fresh fish and other products. The owner has his bowl next to the restaurant, where he grows various vegetables, including potatoes, tomatoes, zucchini, and aubergines, which come straight from the field to the kitchen. So that visitors can enjoy fresh and the best quality organic products during sunset time.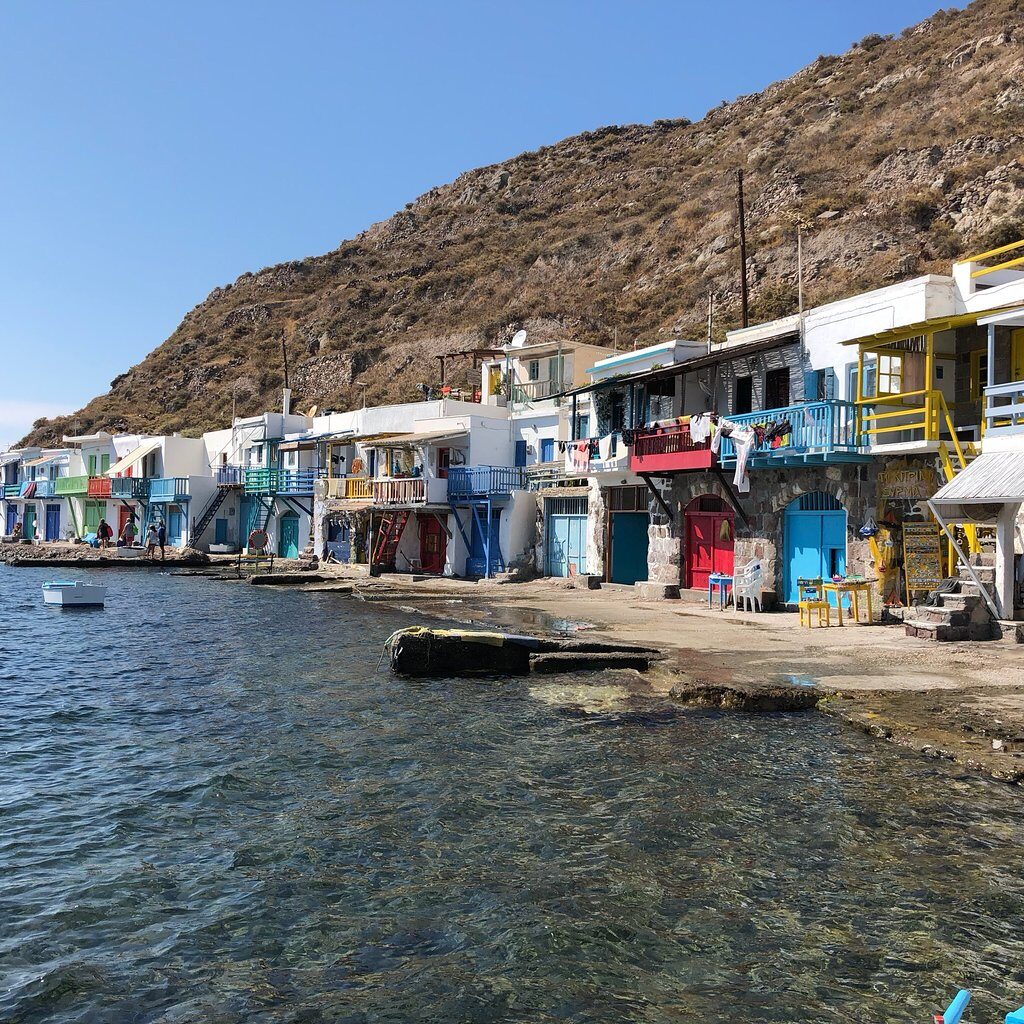 Medusa
Syrmata's Medusa is a picturesque harbor with brightly colored houses and a colorful dining room. The restaurant combines traditional local products with Mediterranean cuisine, mainly seafood. Try the "Medusa" salad, grilled octopus, charred sardines, and swordfish skewers while sipping good Greek ouzo or beer.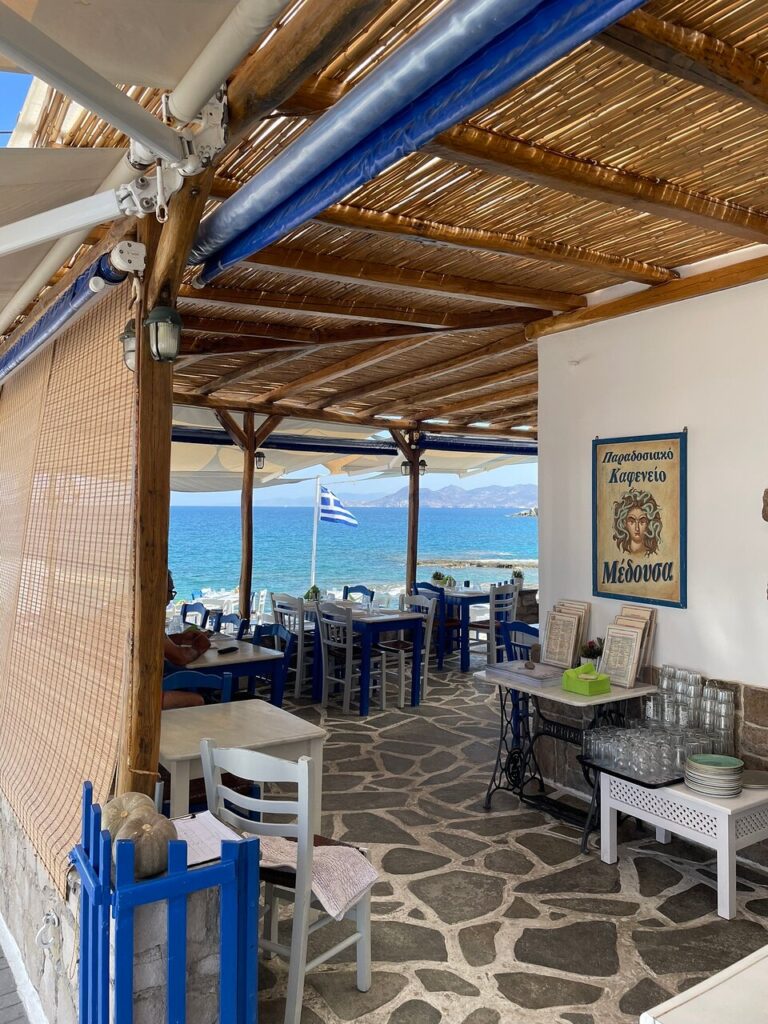 Miscellaneous
Here are some more essential places that might be of your aid like HEALTH CENTER MILOS is in Plaka,
SUPERMARKETS: Masoutis supermarket in Adamas port and Triovasalos village, Tsakanos mini market in Adamas, Mercato grocery store in Pollonia (old port), AB food market in Katifora Plaka, & Alpha market in Triovasalos, and you can find
PHARMACIES: Xidou Anna in Adamas port, Pharmacy in Triovasalos, Pharmacy in Pollonia, and Pastrikou Aikaterini in Plaka.
While you're visiting Milos, outside of the amazing local food scene, the island has so many great excursions to visit, like the Catacombs, the ancient pirates' cave, and so many hidden beaches that you can only get to by boat! If you find yourself without a boat, while you are in Milos and search for hidden gems, check out these luxury yacht sailing trips Odysseus A. Cruises has daily.
Curious about how to get to Milos? Check out this guide that details all your options and the cost of travel.
Hopefully, this article helped you to get started on your next trip to Milos. Consider some of these recommendations while planning your trip, be sure to book early, and don't forget the sunscreen!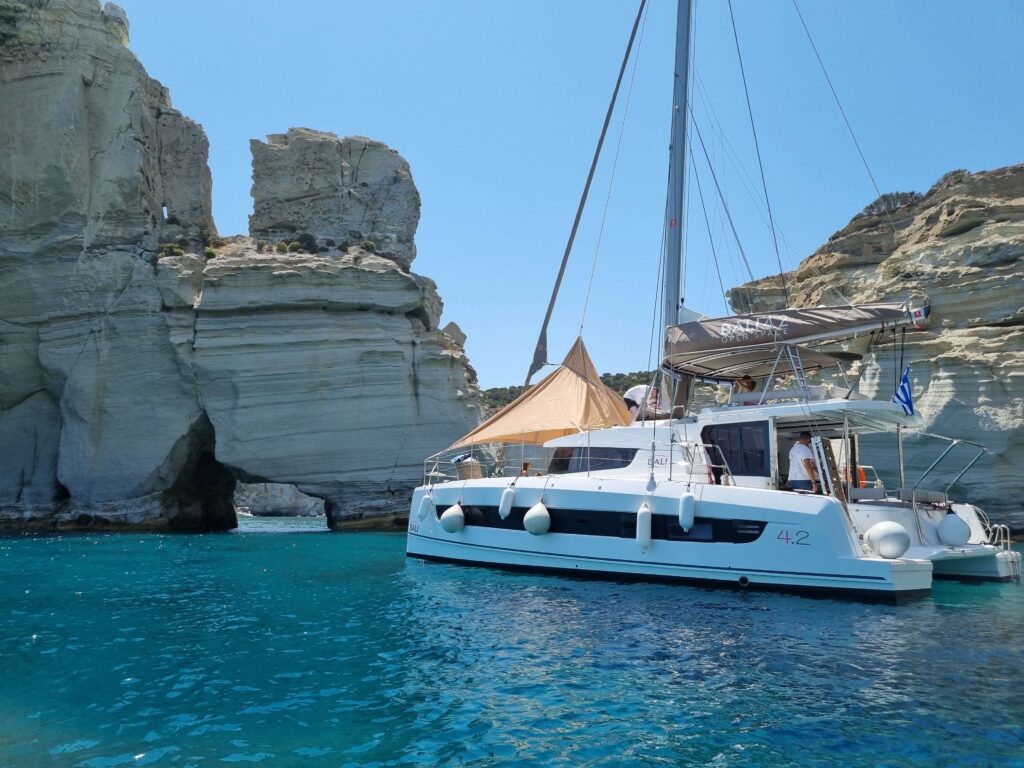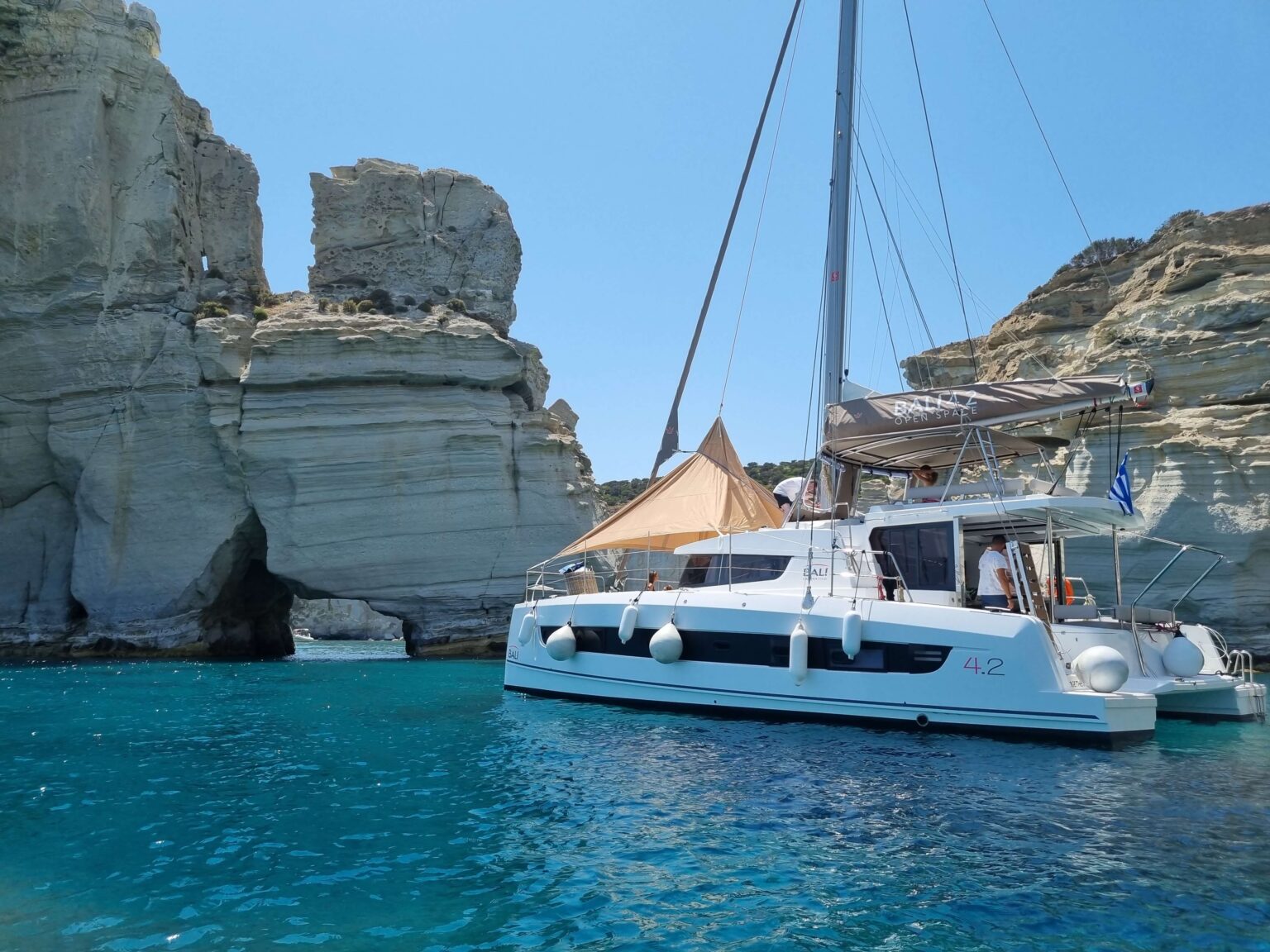 Round trip of Milos
Sail around Milos island with Odysseus Cruises.
10 hours of pure bliss in the arms of Nature